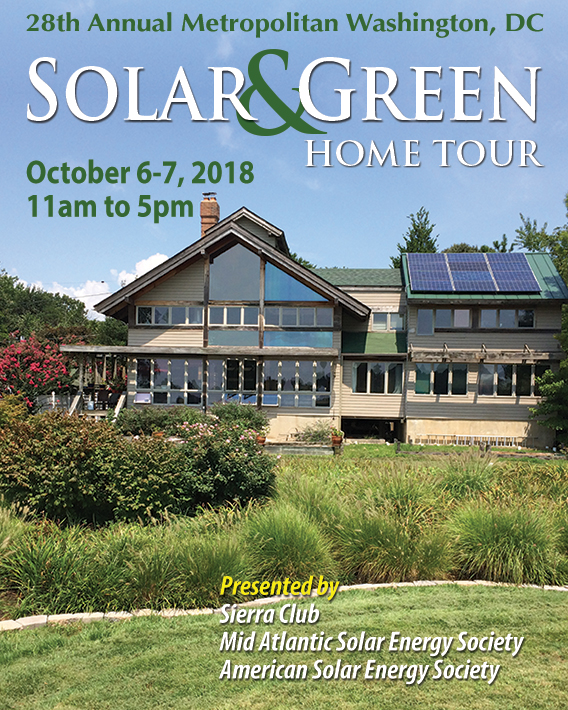 Get Your 2018 Tour Guides!!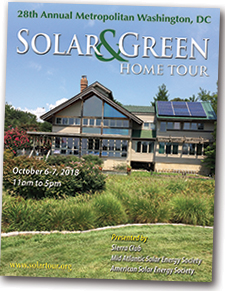 The 2018 Solar and Green Home Tour Guide is your passport to see over 40 Solar and Green homes. Thare are several convenient ways to get a tour guide.
Download the Tour Guide for FREE!
Available online for $10
Available for $5.00 at these locations in the DC area.
Greenbelt Co-Op
121 Centerway,Greenbelt, MD
Hours: Mon-Sat 9am to 9pm, Sun 9am to 6pm
Second Edition Books
6490 Dobbin Road,Columbia, MD
Hours: Mon-Fri 10am to 8pm, Sat 9am to 8pm, Sun 11am to 5pm
ElectroScooterWorks
6751 Mid Cities Avenue,Beltsville, MD
Hours: Mon-Fri 10am to 6pm, Sat 10am to 3pm
Common Market
5728 Buckeystown Pike, B1,Frederick, MD
Hours: Mon-Sun 8am to 10pm
Idle Time Books
2467 18th Street, NW,Washington, DC
Hours: Mon-Sun 11am to 10pm

Scrawl Books
11911 Freedom Drive,Reston, VA
Hours: Mon-Sat 10am to 8pm, Sun 12pm to 6pm