About The Tour of Solar and Green Homes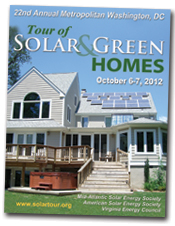 Thanks for your interest in the 2013 Tour of Solar Homes and Green Homes. Our 23rd year showing some of the most green solar homes in the DC area! The tour will be October 5-6, with a remarkable variety of solar design, technology and sustainable living concepts illustrated in over 70 homes.
Each touring day has a variety of unique educational opportunities to put a true environmental "spin" on your experience. All 70 of the solar tour homes will be listed in your tour guide.
Your tour guide is both your map and "passport" to gain entry to the homes on the tour. Only one guide per household is needed to gain entry to the homes. The guide has descriptions, features and directions to each home as well as helpful information, articles on solar home installation, grants and incentives as well as ads from the best area installers in the Washington DC area.
Get Your Tour Guides!
Download the tour guide for FREE from our website. Or if you want to save toner and purchase the beautiful 48-page guide they are available for $5.00 at area MOMs and other locations. Only one guide per household is needed to gain entry to the homes but pick up as many as you like and share them with your friends. Tour Guides will be available in late August.
Help us get the word out! Send
out Tour Flyers.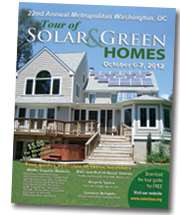 We want this to be our most popular tour yet. Help us get the word out by downloading our flyer and handing them out to your family, friends and neighbors. Click on the tour flyer, pictured to the right, to download it.
Visit the Maryland Area Tour
There are plenty of opportunities to see solar homes from other tours in the DC area including the Central Maryland on the same weekend. Visit the Solar Tours page for more information.
Video from our 2010 tour

Video courtesy of SolarTown