Other Area Solar Tours
2013 Western Maryland Tour
http://www.solartour.org/md/index.html
October 5 and 6 from 11:00 am to 5:00 pm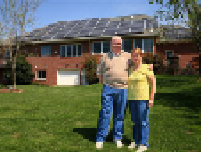 The 3rd Annual Western Maryland Tour will feature solar and green homes from Frederick and Washington Counties and West Virginia. The tour includes a variety of renewable energy improved buildings and properties including farms, a solar powered pharmacy, a historic renovation, as well as residential solar homes featuring many energy efficient improvements. The tour guide has local installers and useful information for those considering a solar installation.
Contact Rich Maranto at rich@ram-digital.com or 301.371.4422

Download the Tour Guide for Free.
Tour Guides are also available for $5.00 per household from area locations. See the Get Your Tour Guides page for locations.