DE 1st Solar Home and Building Tour
Sustainable Homes and Buildings Locations. You can go to any of these homes in whatever order you prefer. Please access addresses via your cell phone and save paper!
MILTON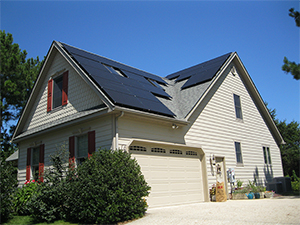 217 Chandler Street
Milton, DE 19968
The home is located in the Preserve on the Broadkill development.  It is a Cape Cod house with red shutters and empty lots on both sides.  The solar installation is a 5.4Kw system with panels on two portions of the garage roof:  one facing to the SSW and the other facing to the WNW.
LEWES
304 Pilottown Road
Lewes, DE 19958
This is the historic Thomas Rodney house c. 250 years young. We are balancing of historic preservation-visual-values with historic- preservation-by-installing-PV to do my part to slow down climate change's sea level rise which, unchecked, is not helpful for preservation, historic or not. The house fronts Lewes harbor, where storm waters under sea level rise are a very serious issue for long-term preservation.
The old house got a Deep Energy Retrofit in 2000 with air infiltration sealing and super insulation (6″ of sprayed closed-cell foam) + 1 inch of rigid insulation applied to the house exterior (critical to keep the wood toasty warm and thus above the dew point). The biggest carbon saving comes from air sealing the air gaps; typically, energy loss from air infiltration = 1/3 the total energy loss so this is where to spend your first dollar to save the planet.
So, the house employs all four ways of fighting climate change:
Renewables: a rooftop PV array generates just enough electricity to achieve zero energy cost during 9 out of the 12 months. It can be a free-standing energy production facility in which all the revenue stays in Sussex, in fact, in my pocket–none goes to the Middle East to buy more guns. When free of the grid it offers the added value of resiliency; ability to stay on, free of the grid, and provide enough energy for our home in case a hurricane like Sandy, or Harvey or Irene destroys the electric grid for a month. Its resiliency capacity has real added-value in the era of climate change storms.
Reflectables: A high albedo metal rood (SRI of 0.5 or 50%) reflects back to deepest space 50% of incoming solar radiation. A mini-solar engineering facility.
Greenables: Obviously the habitable space is surrounded by a deep, cool Forest Garden which reduces the air temperature surrounding the house by 30 degrees F, and offers verdant shade. This also creates habitat for biodiversity which is under all-out assault on the planet and a small, healthy local ecosystem–like politics, all ecosystems are local.  Healthy ecosystems means healthy soils which both storm far more storm water and sequester far more carbon–our saving grace, and one I want to place right in the townscape to be easily seen, as an educational tool. This also brings the whole climate change crisis "DOWN TO EARTH" where you can see it, touch it, heal it, and do something easy to turn it around. Everyone has a role to play, and something to contribute. It empowers folks to know they CAN change it: and together, we can do it. The largest fraction of the solution is more biological than technological. Plant the solution.
Walkables: We selected this house because it was just a block from the stores, restaurants, banks and post office of Old Town Lewes. More than half the time we just walk. (It takes longer because we then talk to our neighbors along the way, but we like that—and its part of our personal health system.) This hugely fights climate change.  Walkables are the big energy savers because you need not only fewer cars (which could be electric) but more importantly in the age of coming extreme temperatures, less land paved over with hellish hot asphalt which heats up to 130+F in front of our houses to bake us alive.  So 2/3 of Lewes could eventually be depaved and re-planted with cooling, shade trees and vegetation which will lower the Urban Heat Island, perhaps 5-10 or more degrees in front of our homes. Nice! This is another example of Greenables.
The four systems of turning back the carbon crisis–renewables, reflectables, greenables and walkables–all interact and work best as a set of four.  Together, they help us do our part to fight both ecosystem change and climate change. And we like it cool around our home in the summer, and like to hear the birds in the morning–so this offers human comfort, pleasure and aesthetic delight too. It is also safer in terms of human health and safety from extreme temperatures coming under climate change: even with a complete power failure a home like this stays about 75 degrees inside in steamy July and August so its passive cooling is an important fail-safe feature.  The avoided acute and chronic health care costs are co-benefits that, in fact, more than offset the cost of these systems. We have natural air conditioning but not any mechanical air conditioning. (Which also offsets the costs of 'letting nature do it.')   Together, these four systems create a common good (a little better climate and ecosystem) and cost us much less in operating expenses than buying these services–but since there is nothing to buy, no one pays to advertizes this constantly on TV in a consumer economy so many people never see examples of it. Glad you can on the Solar House Tour.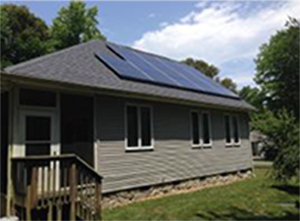 21626 West Conley Circle
Lewes, DE 19958
Description: This 1910 square foot home has solar arrays, installed by SolarCity in July 2014, on the South and West roofs with 18 250-watt panels on each roof for a total of 9 kW. For heating and cooling the home has a ground based geothermal system. The water heater is a hybrid electric and the gas range and clothes dryer are propane.
310 W. Fourth Street
Lewes, DE 19958
The house with a detached two car garage was completed in March 2012.  It is a two story 2,840 sq. ft. structure with kitchen-dining room, living room, two spare rooms, a full bath, separate laundry and mechanical rooms, and a glassed–in porch outside of the conditioned area with a gas fireplace–all on the first floor.  On the second floor are three bedrooms and two full baths. 
In designing the house, our two prime objectives were first to achieve superior energy efficiency and second to provide adequate roof area, slope, and southern orientation suitable for solar hot water collectors and photovoltaic panels—and do this on a lot not facing south.  We also wanted to insure that the front of the house which faces the road reflected the historic style of the surrounding houses.
These objectives have been realized using SureTight Structural Insulated Panels (SIPs) made with oriented strand board (OSB) skins on each side of a Neopor core of rigid expanded polystyrene (EPS) insulation. Windows are from Serious Materials, their 725 series.  Thermal resistance of the walls, floor, ceiling, and windows are 46, 30, 55, and 5.26 respectively.  The house and garage roofs are metal—Bone White, PAC-CLAD from Petersen Aluminum.
 Moisture control in the crawl-space involved providing external foundation drainage to a dry-well and a 2-inch rat slab floor over 4 inches of gravel covered by a 12 mm Poly sheet.
Mechanical systems include a Climate Master (Tranquility 20) single-stage 18,000 Btu/hr closed loop geothermal heat pump. Determining its capacity required writing a suitable simulation program since the Manual-J simulator (and others) used in the trade would not accommodate SIPs.  Simulation of wall moisture-temperature profiles were also necessary to insure avoidance of condensation in insulated areas not involving SIPs.
In a tight house, ventilation is necessary.  For this purpose we chose an Energy Recovery Ventilator Model 350 ERV from Zender, Zwolle, Netherlands.
Solar hot water is provided by a Drainback System from SolarHot Ltd.  It includes two flatplate collectors, two pumps, a heat exchanger, an 80-gallon storage tank, 10-gallon drainback tank, and a Temperature Differential Controller.  Drainback systems have the advantage of not requiring antifreeze even in the coldest climates.
A crawl space dehumidifier, Model CX-109 from Sani-Dry keeps the relative humidity in the crawl space below 60 percent.  Its duty cycle is very low.
The south facing roof has area sufficient for up to 30 PV panels which would be sufficient under ideal conditions to provide all the energy required for heating, cooling, and domestic needs.  Unfortunately, partial shade from tall trees makes solar electric generation inefficient and consequently PVs have not been installed.
Measurements reveal air leakage of 0.6 air changes per hour (ACH) at 50 Pascals and over several years it has been found that 9.5 kBtu / sq.ft. / yr. is sufficient to condition our air.
In conclusion let us say that our interest in conserving energy and reducing greenhouse gases is not confined to the housing sector.  Animal agriculture, for example, is responsible for up to 51 percent of greenhouse gasses, most chronic diseases, and unspeakable animal cruelty—we live in an energy efficient home but we also eat no animal derived products.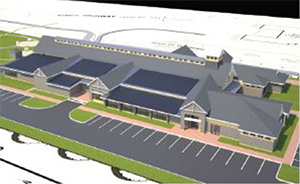 Lewes Library
111 Adams Avenue
Lewes, DE 19958
Solar panels will significantly reduce energy expenses at the new Lewes Public Library, scheduled for completion in April 2016. Half the $425,000 cost will be covered by the state of Delaware, said Beckie Healey, chair of the library board of commissioners, with the balance coming from private donations. Trustee Hugh Leahy said the building will recover its investment in five years. The solar panels are expected to generate 110 percent of the energy needed to heat and cool the 28,000-square-foot facility. The solar system has been installed by Lucent Energy Management. Most of the panels are on flat areas of the roof so they will not detract from the library's appearance.
17958 White Oak Court
Lewes, DE, at Tall Pines Campground off Log Cabin Hill Road
Note: If the gate isn't up, then please type 7018 into the keypad at the gate and the owner will let you in. GPS devices can get you back to the owner's place from there.
This 330 square foot tiny house was designed for green off-grid living.  Built in 2017, it is full of green features including water saving pedals, a tankless hot water heater, propane space heater, and Nature's Head composting toilet.  Most importantly, it is outfitted with a 9-panel solar system with four deep cycle batteries and many low energy draw appliances in order to be able to live within its means, in terms of energy.  A hybrid off-grid/grid-tied system, it has nine Canadian Solar panels on the roof (200 watts each), an Iron Ridge mounting system, four Outback Nano-Carbon AGM batteries, a 4,000 watt Schneider Electric inverter, and an e-panel and charge controller from MidNite Solar.  Low energy draw appliances throughout the home make it possible to stay fully off-grid.
Picture of solar panels & tiny home: https://static1.squarespace.com/static/556def68e4b0fb59709c7d04/599390d3cd0f68caa4e36ca6/599392606b8f5b8a32d97bb7/1502849923279/DSCF5612.jpg?format=1000w
Video link: https://www.facebook.com/windrivertinyhomes/videos/1911968922376458
See more photos of the tiny house at: http://www.windrivertinyhomes.com/the-big-whimsy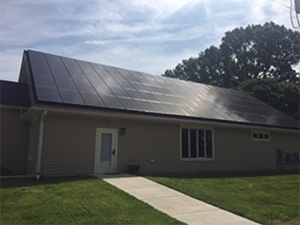 Unitarian Universalists of Southern Delaware (UUSD)
30486 Lewes Georgetown Highway
Lewes, DE 19958
The UUSD has been in a new building for two years and they have had a 25Kw solar panel system operational for nearly one year. Energy efficiency and a goal of zero carbon footprint has been their focus. UUSD has an efficient HVAC system, high efficiency insulation system, programmable thermostats, and LED lighting. They removed an old oil-fired heating system.

REHOBOTH BEACH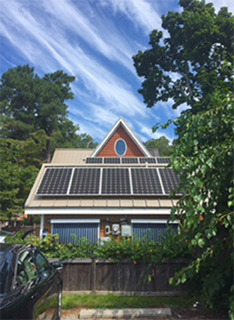 82 Sussex Street
Rehoboth Beach, DE 19971
Description:
Solar Panels
There are 17 photovoltaic (solar) panels, each 255-watts, powering this house. The main roof holds 12 panels and the shed holds five panels. At peak production, these panels can generate over 100 % of the home's electricity needs.
[Details: 4.335 kW • Motech 255 Watt Panels • Enphase Microinverters]
Solar Hot Water Tubes – There are 40 solar water evacuated tubes located on the side of the shed. There are two sections, each with 20 tubes, that produce hot water for domestic use and radiant floor heating.
Rain Harvest System
An 1800-gallon cistern was installed underground alongside the west-facing wall. The rainwater is used for watering gardens and washing cars. Rainwater storage capacity was estimated based on average annual rainfall in Rehoboth Beach and roof coverage.
Passive Solar Home – The house features super-insulation using rock wool (R30 in the walls and R60 in the roof), and high efficiency windows and doors (marked by triple glaze and triple weather stripping). Thermal mass (concrete slab) absorbs heat from sunlight during the heating season and absorbs heat from warm air in the house during the cooling season.
Mitsubishi mini-splits are used for heating and cooling as needed. Radiant floor heating is supplied by a hot water pex-tubes piping (insulated) buried underneath the concrete flooring.
How does it work? As the invisible waves of thermal radiation rise from below, they warm up any objects they strike, which radiate the captured heat in turn. Though the air temperature remains relatively constant, you stay comfortable because the surrounding surfaces aren't stealing warmth from your body.
207 Scarbough Avenue
Rehoboth Beach, DE 19971
AND, next door to 207 Scarbough Ave. is
213 Country Club Drive
Rehoboth Beach, DE 19971
207 Scarborough was the owner's first installed system with a (28) SolarWorld 285s and SMA inverter. 213 Country Club was installed almost exactly a year later with (26) SolarWorld 300s and SolarEdge inverter. Please note that 207 is facing south and has a larger, shadier yard for viewing the solar applications. However, you can see 213's panels from the road as well. A representative from CNC Solar will be at the location to discuss the solar systems and answer any questions.
BETHANY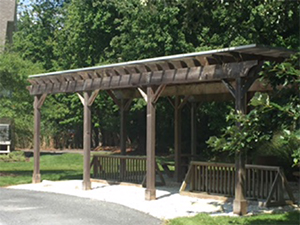 Bethany Beach Nature Center
807 Garfield Pkwy
Bethany Beach, DE 19930
The Bethany Beach Nature Center is housed in one of the town's
original cedar shake shingle cottages, the Addy Cottage circa 1903.The cottage's electricity is generated by a solar array located on top of the pergola next to the Baldwin Nature Trail and the Native Plant Demonstration Garden. CNC solar installed the system with 36 microinverters.
6.39 MWh has been generated year to date.
FRANKFORD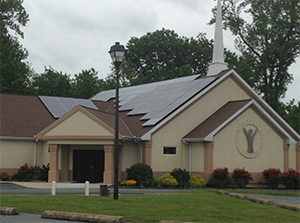 Community Lutheran Church

30897 Omar Rd (Corner of Rt. 20 and Omar Rd)

Frankford, DE 19945

Despite numerous energy conservation efforts, including third-party electric supplier, LED lighting, heat pumps, motion sensors and timers, we were still paying over $300/mo for electricity. We contacted CNC Solar about installing solar panels to cover our electric needs. They designed a system of 67 panels to provide 110% of our prior years' use. We were fortunate to get a low interest, 10 year loan through Delaware Sustainable Energy Utility to cover the installation cost. The system was put into operation on May 31, 2017. During the months of June and July, we have produced over 4500 kWh of electricity with a value of over $550. We have not had an electric bill during this period and have put over 350 kWh in the 'bank' for periods when we don't generate enough to cover our needs.
Note: Doug Fields will be there to give a guided tour.
BRIDGEVILLE
TS Smith and Sons Farm
8887 Redden Road
Bridgeville, DE 19933
http://www.tssmithandsons.com
As part of their emphasis on sustainable agriculture, T.S. Smith & Sons installed solar panels to power their cold storage facility, which had been the biggest energy hog on the farm. The solar installation was designed, manufactured and installed by Delaware firms. It generates more energy than the cold storage warehouse requires, so it also generates revenue to offset their investment.
News articles – links:
Farmers brace in face of changing climate
http://www.capegazette.com/article/farmers-brace-face-changing-climate/128815
http://www.lancasterfarming.com/news/southern_edition/bridgeville-del-century-farm-changes-with-the-times/article_2d53c1bf-69c7-546b-90d8-8a5ebf2e2da2.html